Cantina Crociani Pecorino Civitas 'Biodynamic' 2020, 75cl
Catalogue Code
8032692480183
Quick Overview
Not to be confused with the cheese, this wine takes its name from the Italian word 'pecora' meaning sheep. This is due to the fact that local sheep in the region would often eat the grapes whilst walking through the vineyards. This Pecorino is certified `Demeter` biodynamic, this means that the vineyard has been subjected only to completely natural processes. Bright gold in colour with an aromatic nose. A soft and pleasant wine with aromas of citrus, ripe pear, peach and orange blossom. The palate is clean and rich with a pleasing mineral complexity and a long finish.

At a glance

0.75L

Off Dry

2009

Medium Bodied

Drink now or Can Keep 1 year
Pecorino (100%)

13 %

Cantina Orsogna

White
Pair It With
This is an ideal accompaniment to red meat, rich pasta dishes, game and strong cheeses.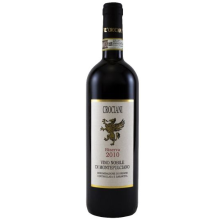 Red Meat

Rich Pasta Dishes

Game