Soya & Ginger Duck breast with noodle
Prep:10min › Cook:30min › Ready in :40min · Serves 2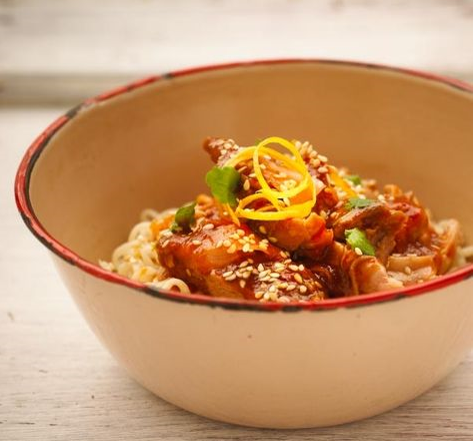 Additional Ingredients
2 Duck breast, fillets
1 pinch of Homewood Delight Organic Chili Powder
125 ml Chicken stock
2 tbsp of Raspberry and Brambles Honey from Homewood Delight
1 tsp Lime juice
2 tbsp Soy sauce
1 pinch of Organic Black Pepper Powder from Homewood Delight
1 pinch Salt
½ tsp of Chinese five spices
2 tbsp Château Haut Bessac Bordeaux Blanc wine by Homewood Delight
16 ounces Boiled noodles
How To Make It
Using a sharp knife score the skins of the duck breast.
Season well with salt, Pepper, Curry powder, five spices, Chilli powder and set aside.
To make the marinade, place Soy sauce, Brambles Honey, Pepper, Red wine and ½ cup of chicken stock and star anise in a pot and simmer for 10-15 minutes. And add a touch of Château Haut Bessac Bordeaux Blanc to get a specialized flavour.
Meanwhile pre heated the grill/ BBQ place the breast skin side down and brunch the marinade continuously time to time.
P.S. throughout the cooking time while moving the breasts around to avoid sticking. The duck breast should take around 15 minutes to cook.
Sliced the duck breasts drizzle the marinade and white sesame seeds on top and serve with noodles with the marinade leftover after garnishing with spring onion strips.