Sri Lankan Pumpkin Curry
This simple yet delicious Sri Lankan pumpkin curry made using the abundant fall vegetable and simmered with coconut milk and spices is a comfort in a bowl. It's vegetarian, gluten free and dairy free.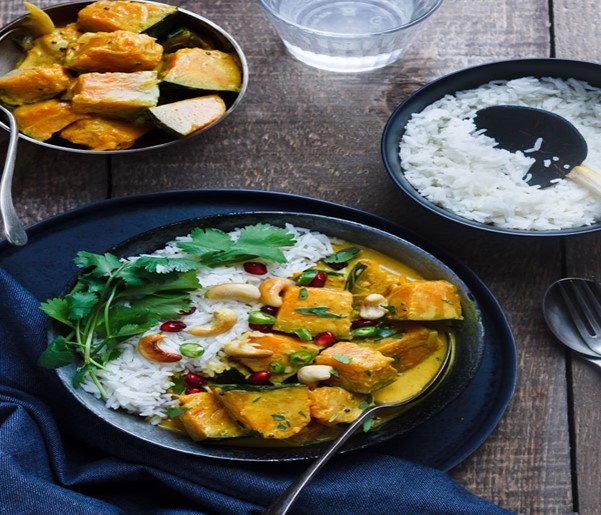 Additional Ingredients
30 min · 4 serves
1

Green Chili

1 pound (454g)

Pumpkin

1

Red Onion (small)

100 ml

Coconut Milk 

1 teaspoon

 

4 Cloves

Lemon Juice

 

Garlic

½ teaspoon

HWD Organic Chilli Powder

½ teaspoon

HWD Organic Curry Powder Medium

¾ teaspoon

Salt

1 stick

HWD Organic Cinnamon Sticks

½ teaspoon

HWD Organic Turmeric Powder

2 tablespoons

Filippo Berio Olive oil with Garlic

½ teaspoon

 

½ teaspoon

HWD Cumin Seeds (powdered)

 

Mustard Seeds (powdered)

10

Curry (leaves)

½ cup

Water
How To Make It
Wash and cut the pumpkin into 1-inch pieces.
Add the Pumpkin pieces, 3 green chillies, Curry leave, Pandan leaves. Sliced Red onions, Salt ½ tsp, HWD Turmeric powder, HWD Curry powder, HWD Cinnamon sticks followed by water (250ml) into a cooking pot.
Cover and cook until the pumpkins are done.
Meanwhile add 4 tbsp of fresh coconut, HWD turmeric, Mustard seeds (ground into powder), HWD Black pepper, Garlic, HWD Cumin powder into a blender jar and blitz into a paste.
Add this paste to the pumpkins with 100ml of thick coconut milk.
In a Medium heat, let it cook for 10-15 minutes.
Lastly check and add salt and pepper to the taste.