Sweet & Spicy Prawn Curry with Lemongrass Rice
Sweet and Spicy Prawn Curry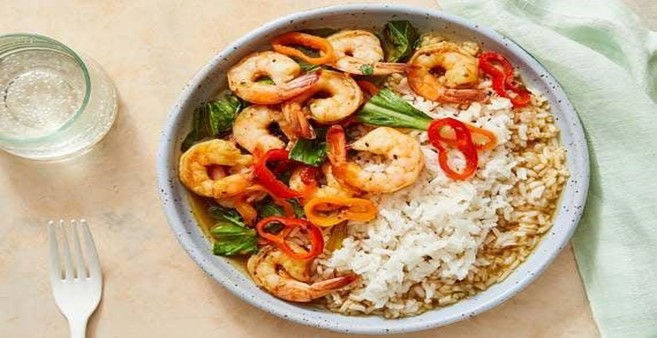 Additional Ingredients
Ingredients
 4 servings – 35Mins
200 gr. prawns
200 ml. coconut milk
3 cloves garlic
1 onion
1 tbsp of corn flour
2 tbsp of Olive oil (Filippo Berio Olive oil with Basil by HWD)
1 tbsp of Homewood Delight Organic Curry Powder Sweet
1/2 tsp. of Homewood Delight Organic Ginger Powder
1/2 tsp. of Homewood Delight Organic Turmeric Powder
1/2 tsp. of Homewood Delight Organic Chilli Flakes or Organic Chili Powder
Salt to the taste
1 tsp of Homewood Delight Organic Black Pepper Powder
½ tsp of Homewood Delight Organic Coriander Powder
How To Make It
Sweet and Spicy Prawn Curry
Clean the prawns and set aside. (Add a touch of salt and pepper)
Dice the onions and garlic.
In low heat, dry fry curry powder, turmeric, ginger, chilli powder and coriander powder until it releases aroma.
Add 2tbs of olive oil and add onions, let it cook for 2-3 minutes then add garlic and cook for another 2 minutes. (Do not let it burn)
Add corn flour and mix well.
Add coconut milk, salt, prawns, and cook for 5 minutes
Lastly, add the chilli flakes and black pepper and cook for 1 minute.
Switch off the fire garnish with coriander leaves.
Basmati Rice with Lemongrass & Butter
2 cup rice
2 tablespoons of Olive oil
2 1/2 tablespoons chopped Organic Lemon grass by Homewood Delight
1/2 tsp of Homewood Delight Organic Ginger Powder
2 1/2 teaspoons butter
2 bunch chopped green onion
salt as required
4 cup water
How to cook
Wash and drain the rice.
Heat up 1tbs of olive oil and 1tbs of butter.
Add diced white onion and pounded two lemongrass stalks.
Let it fry until the onion are translucent
Add the rice salt and sufficient water/ stock and cook partially (salt as per your taste).
At this point take out the lemon grass stalks.
Transfer the rice mixture to an ovenproof dish and mix H.D ginger powder and lemon grass and put it in a hot oven for 10 minutes.
P.S before putting inside the oven, cover the rice with greaseproof paper.
Garnish with sliced fresh red chillies(optional) or with fried onions and coriander leaves.
Serve hot with Sweet and Spicy Prawn curry.