Cantina Crociani Rosso di Montepulciano 2019, 75cl
Catalogue Code
8032841410580
Quick Overview
The vineyards of Montepulciano in southern Tuscany are planted with Sangiovese grapes (known locally as Prugnolo) used to produce one of Italy`s noblest red wines. Bright ruby red in colour and typically full flavoured, Rosso di Montepulciano displays rich flavours of cherry and red berries, a soft gamey character combined with subtle oak. Supple tannins and a firm structure lead into a long, full flavoured finish.

At a glance

0.75L

N/A

Medium Bodied

Drink now or Can Keep 1.5 years

Sangiovese (80%) Canaiolo (10%) Mammolo (10%)

13.5 %

Cantina Crociani

Red
Pair It With
This is an ideal accompaniment to red meat, rich pasta dishes, game and strong cheeses.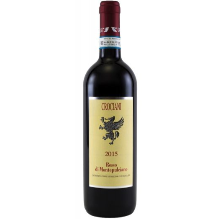 Red Meat

Rich Pasta Dishes

Game