Le Monde Cabernet Franc Grave del Friuli 2017,75cl
Catalogue Code
8034013470064
Quick Overview
This Friulian Cabernet Franc is an intense ruby red in colour with a rich bouquet of black cherries and a subtle herbal note. The palate is quite light in the mouth with flavours of blackberries, black cherries and a touch of peppery spiciness. Soft tannins combine with a fresh acidity giving this well balanced wine an elegant feel.

At a glance

0.75L

Dry

Medium Bodied

Drink now or Can Keep 1 year

Cabernet Franc (100%)

13 %

Le Monde

Red
Pair It With
Pairs well with red meat, chicken and game.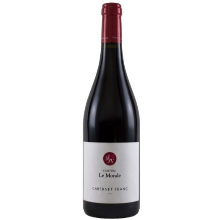 Red Meat

Chicken

Game