Le Monde Prosecco Spumante Brut NV, 75cl
Catalogue Code
8034013470101
Quick Overview
Prosecco is the fashionable dry sparkling wine produced from Glera (formerly known as Prosecco) grapes grown in the Friuli region. It is a pale and delicate wine with fine mousse and persistent fine bubbles. The bouquet is very fresh and fruity. On the palate, the lively mousse is balanced by tropical fruit flavours and hints of flowers and green apple leading to a light and fresh finish.

At a glance

Dry

Medium Bodied

Drink now or Can Keep 1 year

Glera (100%)

11.5 %

Le Monde

Prosecco
Pair It With
Perfect as an aperitif or serve with hors d`ouvres and light risotto`s.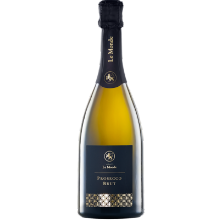 Hors D`Ouvres

Light Risotto